Friday, September 22, 2023
On September 19, 2023 the Embassy of Liechtenstein, the US Department of State, the Basel Institute on Governance, and the Woodrow Wilson Center hosted a discussion titled "Combating Green Corruption: Fighting Financial Crime as a Driver of Environmental Degradation."
By identifying and disrupting illicit financial flows associated with nature crimes, such as illegal mining, wildlife trafficking, logging and waste dumping, these crimes can effectively be tracked, disrupted and prosecuted. Corruption is often an integral part of such criminal practices and should therefore be a focus of the international community in addressing nature crime.
The discussion featured an esteemed group of high-ranking government officials and experts, as well as opening and closing remarks by Liechtenstein Ambassador Georg Sparber.
Speakers included:
Richard Nephew, Anti-Corruption Coordinator, United States Department of State
Oleksandra Azarkhina, Deputy Minister, Ministry for Communities, Territories and Infrastructure Development of Ukraine
Andrea Gacki, Director of the Financial Crimes Enforcement Network (FinCEN)
Himamauli Das, former Director of he Financial Crimes Enforcement Network (FinCEN)
Roberto Troya, Senior Vice President for World Wildlife Fund US Country Offices and Regional Director for Latin America and the Caribbean
Juhani Grossmann, Team Leader Green Corruption, Basel Institute on Governance
The event highlighted the "Green Corruption" approach to tackling nature crime, as well as measures taken by Governments, civil society and international actors in response. The speakers explored best practices and concrete examples in fighting Green Corruption and identify ways to strengthen the normative framework in the run-up to the Conference of the States Parties of the UN Convention against Corruption, hosted by the United States in Atlanta, Georgia from 11 to 15 December 2023. 
The panel discussion explored questions such as:
What tools exist to fight illicit financial flows associated with Green Corruption?
What resources do officials, civil society and the business community have to address cases of Green Corruption?
How can prevention, oversight and enforcement be improved?
How can the transition to the green economy be achieved without criminal exploitation of people and the environment, for example when sourcing critical minerals?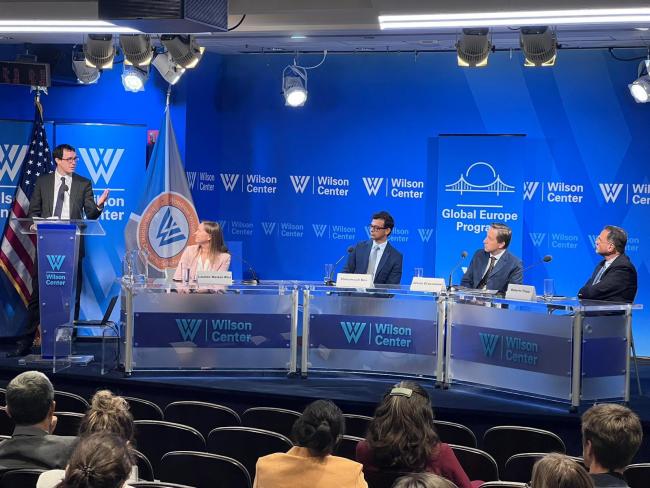 The following are key quotes from the panelists as posted on the Wilson Center event webpage:
Georg Sparber, Ambassador of the Principality of Liechtenstein to the United States
"The main purpose today is to shine a spotlight on how massive a problem corruption is in connection with environmental crime, how we can mobilize here in DC but also globally to address it, and what the tools are that we have at our disposal and what are the tools that we actually need to do that."
"Liechtenstein has supported the fight against green corruption since the very beginning, we do strongly believe that following the money can be instrumental to identify, interrupt and prosecute environmental crime."
"Fighting climate change and the degradation of our planet is going to be hard enough, we simply cannot allow poor governance and corruption to undermine the little hard fought progress that we've made."
Richard Nephew, Coordinator on Global Anti-Corruption, US Department of State
"Corruption also facilitates and exacerbates nature crimes that harm ecosystems and local communities, hamper development and poses significant long term consequences for future generations, often with the disproportionate impact on those who are most vulnerable."
"In order to get the green transition right, both the public and the private sector must proceed with transparency and integrity, it'll be critical for our governance future and for our environmental future."
Oleksandra Azarkhina, Deputy Minister, Ministry for Communities, Territories and Infrastructure Development of Ukraine
"It's about the rules, it's about the procedures and it's about the values - and I'm not tired to repeat that our fight is not only the fight on the battlefield, it's also the fight of two systems, and it's a fight of the different systems of the values and that's why it's so important to preserve them during those dark times."
"The energy sector was traditionally one of the most corrupted, one of the most centralized, one of the most monopolized, and for us it's a huge opportunity to change the situation for better for our citizens."
"We included from the beginning, already in this year, the questions and indicators for the environmental friendly solutions, for sustainable development goals principles and actually make sure that we are trying to follow all the obligations Ukraine has taken on itself."
Andrea Gacki, Director of FinCEN, US Department of the Treasury
"Environmental crimes result in significant harm to local ecosystems at a time when the world is marshaling its efforts to combat climate change and threats to biodiversity."
"Today is an opportunity to share experiences and collaborate so we can be smarter, and more effective in identifying and targeting illicit funds and bad actors involved in these environmental crimes."
"Environmental crimes are attractive to criminals, the crimes are relatively low risk activities that promise high reward, largely because environmental efforts are so limited. The demand for trafficked wildlife products remains high and criminal penalties are not nearly as severe as they are for other illicit activities."
Himamauli Das, Former Director of FinCEN, US Department of the Treasury
"It's important that the US government and others help financial institutions understand how nature crimes fit within broader priorities, so financial institutions can know how to prioritize resources within their overall Anti-Money Laundering/Combating the Financing of Terrorism framework."
"NGOs play an incredibly important role in terms of their investigative efforts as well as their use of open source intelligence to be able to better understand typologies, efforts and actions going on by bad actors with respect to financial crimes and their link to nature crimes."
"We need cross-border cooperation of governmental actors and financial institutions to exchange information in order to better understand  financial flows and networks of shell companies that are facilitating illicit activity."
Juhani Grossman, Team Leader Green Corruption, Basel Institute on Governance
"The under resourcing of environmental agencies that we do as a society worldwide is reflected exponentially in their ability to control internal corruption risks."
""When conservation and anti-corruption groups come together, it gives them a whole different kind of credibility in conversations with government."
"Our hope is that there is sufficient space for experimental and high risk programming that will allow us and all our partners to continue engaging and coming up with new approaches."
Roberto Troya, Senior Vice President for WWF US Country Offices and Regional Director for Latin America and the Caribbean, World Wildlife Fund
"The goal of the 'Targeting Natural Resource Corruption Project' has been to unearth and disseminate knowledge concerning the devastating impact of corruption on environmental and conservation endeavors."
"We need to enable and make sure that those people who are witnessing corruption happening have all the assurance and all the protection that is needed and all the confidentiality to come forward."
"Sustainable growth is all about the balance."