Monday, March 22, 2021
In April 2020, a project was launched in Liechtenstein to develop a coronavirus tracking program through the use of special, biometric bracelets. Under the pilot project, known as the COVI-GAPP study, roughly 1100 Liechtensteiners were offered a bracelet, originally developed the Swiss company Ava AG, to monitor female fertility cycles, which traced skin temperature, heart rate and breathing frequencies. The data was automatically analyzed by a laboratory in Switzerland with the aim of developing algorithms to track physiological patterns to predict coronavirus outbreaks before symptoms are known. The project, which was led by Liechtenstein scientists and entrepreneurs Professor Lorenz Risch and Dr. Martin Risch and funded by the Princely House of Liechtenstein and the Liechtenstein government, published its results in March of 2021.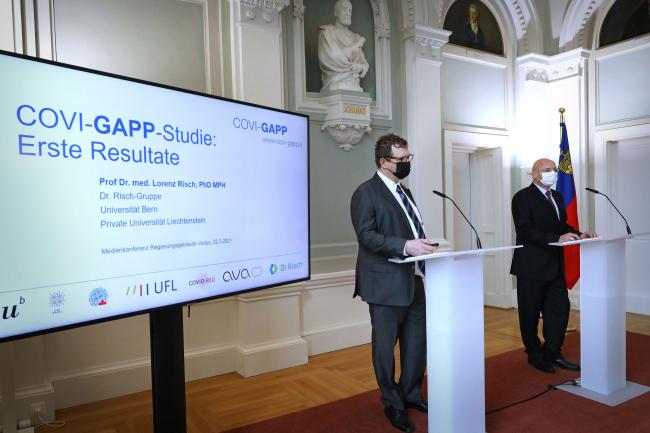 Results of the study showed that in 71% of cases, the bracelet detected symptoms of COVID-19 two days before they became apparent to the patient. Many believe the fast spread of the virus is due in part to those being infected not knowing they have it, as symptoms can take days to emerge, and passing it to others. The faster symptoms can be detected, the better the chances are for minimizing the spread of an outbreak. According to COVI-GAPP "the technology [the bracelet] uses is based on an algorithm that Ava AG is continuously improving. It monitors skin temperature, pulse rate and respiratory rate during sleep and also observes blood circulation and heart rate variability."
Based on the success of the initial Liechtenstein study, a trial, funded by the European Union, will now be conducted involving 20,000 people based in the Netherlands to see if the bracelets can detect infections in real-time. COVI-GAPP says this next phase of the study will be sponsored by a global consortium, also headed by the Dr. Risch Group, involving the Dutch subsidiary of Roche, the Swiss pharmaceuticals and diagnostic group that is developing corona tests.
At a March 22 press conference unveiling the results of the Liechtenstein study, Dr. Mauro Pedrazzini, Liechtenstein's then-Minister for Public Health said that "it's gratifying to see that the major commitment made by the Princely House, the country and its health experts to fighting the pandemic is paying off in such a concrete way. Liechtenstein can be proud of the important scientific impulse delivered by the COVI-GAPP study, the benefits of which can now be taken further by the EU-funded study in the Netherlands. Ultimately the entire international community will benefit."