Friday, March 31, 2023
On the invitation of US President Joe Biden, Prime Minister Daniel Risch participated in the 2023 Summit for Democracy. The meeting, attended by around 120 heads of state and governments, was held virtually. President Biden called it a historic turning point and emphasized that the decisions made by the democracies of the world today will be decisive for the coming decades.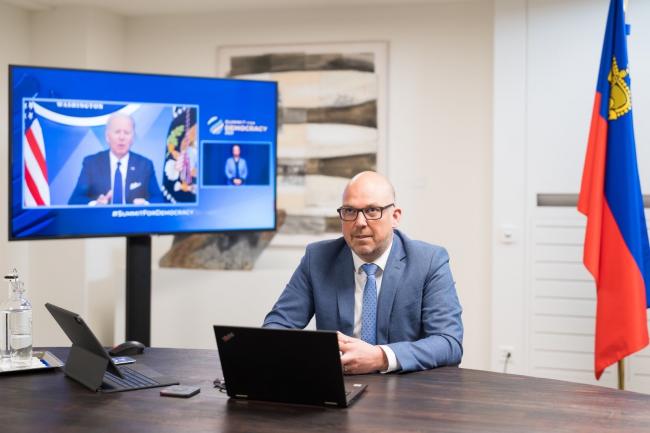 Liechtenstein's commitment to justice
In his speech, Prime Minister Daniel Risch highlighted Liechtenstein's direct democratic tradition and its commitment on a global level to a world order based on the principles of the rule of law and the self-determination of peoples. Liechtenstein consistently advocates for global processes that give all countries a voice. Liechtenstein has made a concrete contribution to this with the so-called "Veto Initiative" to strengthen the UN General Assembly towards the Security Council.
Regarding Russia's illegal aggression against Ukraine, Prime Minister Risch condemned the serious violations of international law and stressed the need to draw the right lessons from it, saying "Liechtenstein stands with Ukraine in its brave fight for freedom and self-determination. It is a fight in all our names." He further emphasized that he rule of law, anchored in the UN Charter, is the bedrock for our collective security and has been blatantly violated by Russia's aggression against Ukraine.
Liechtenstein, therefore, supports the work of the International Criminal Court (ICC), which has already issued two arrest warrants related to the Russian aggression against Ukraine. Additionally, the Prime Minister called for a special tribunal for the crime of aggression to strengthen the prohibition of the illegal use of force under international law and the UN Charter for future generations.
Free and open societies under pressure
The democracy summit also addressed the numerous challenges that open societies face today, from corruption and targeted misinformation, to the intimidation of journalists, and the abuse of new technologies to restrict fundamental rights. Democratic control, investments in the education system, and a strong civil society form an important protective barrier against authoritarian tendencies. The role of the private sector in achieving common goals in the areas of society or the environment is also becoming increasingly important. In this regard, Prime Minister Risch referred to Liechtenstein's positive experiences with public-private partnerships under the Liechtenstein Finance Against Slavery and Trafficking (FAST) Initiative to combat human trafficking and modern slavery.
Democracy as a model of success
As a result of the Summit for Democracy, a final declaration was adopted, to which Liechtenstein also joined. The summit thus set an important signal against authoritarian systems of government. The basic principles of democracy and the rule of law can count on broad support from the international community, which radiates to all regions of the world and proves robust even in times of great challenges. Liechtenstein will continue to play an active role in defending the social and economic freedom of democracies around the world against attacks.