Friday, June 16, 2023
From June 11 to 12, H.S.H. Hereditary Prince Alois of Liechtenstein, Liechtenstein's Acting Head of State since 2004, traveled to Washington, D.C. The purpose of his visit was to participate in a series of congressional meetings focused on current challenges and bilateral relations between Liechtenstein and the United States. During his time in Washington, D.C., Hereditary Prince Alois had meetings with Senator Pete Ricketts, Ranking Member of the Subcommittee on Europe in the Senate Foreign Relations Committee, Senator Ron Wyden, Chairman of the Senate Committee on Finance, and Congressman Donald Beyer, Co-Chair of the Congressional Friends of Liechtenstein Caucus.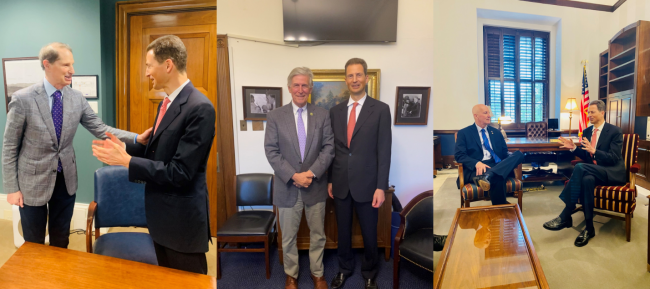 During his stay in DC, Hereditary Prince Alois was given expert-level briefings on China and was the guest of honor at a lunch hosted by Ambassador Georg Sparber which focused on US-European relations. Guests included Heather Conley, President of the German Marshall Fund, Fred Kempe, President and CEO of the Atlantic Council, Cathy Schultz, Vice President of Tax and Fiscal Policy at Business Roundtable, and Nicolas Véron, Senior Fellow at the Peterson Institute for International Economics.