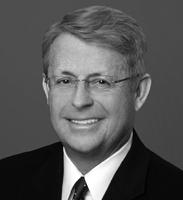 Paul F. Donahue
Honorary Consul of Liechtenstein to the Midwestern United States
Paul F. Donahue earned a B.A. History and an M.A. German from the University of Massachusetts after study at the University of Freiburg in Breisgau, Germany, under the auspices of the Institute for Atlantic Studies. He also studied French at the University of Geneva, Switzerland, and Swedish at Uppsala University in Sweden.
Mr. Donahue taught German at Smith College and Indiana University before earning a Juris Doctor magna cum laude at Indiana University in 1976 where he was an editor of the Indiana Law Journal. He is admitted to the practice of law in Illinois, Indiana and Florida. Before retiring, he practiced law in Chicago with the international law firm of K&L Gates LLP, frequently representing clients from German-speaking countries. His practice concentrated on antitrust matters and business litigation in federal and state courts across the United States. He counseled companies on distribution and marketing, including pricing, Internet sales, trademarks and joint ventures. He has broad experience in regulatory and enforcement matters before the Department of Justice and the Federal Trade Commission including mergers, acquisitions, joint ventures and grand jury proceedings. He was an active member of the American Bar Association and was Co-chair of the Corporate Counseling Committee of the Antitrust Section. He also was Chair of the Antitrust Law Committee of the Chicago Bar Association.
He is married to Julie Danis and has a daughter, Meghan, who studied in Munich and Vienna. He is a former member of the Board of Trustees of the Music of the Baroque and of the Mo Ming Dance Center, both in Chicago. Mr. Donahue is active in the international community in Chicago and the Midwest. He enjoys windsurfing, skiing, golf and bicycling.